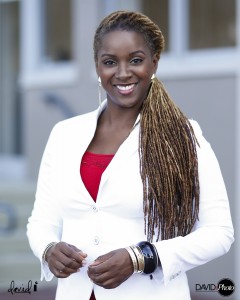 Calibe Thompson is a Jamaican-born TV producer, director and host. She is the Executive Producer, Director and Lead Editor of "Taste the Islands with Chef Irie", the first Jamaican-produced series and the first Caribbean cooking series to be aired nationally on US public television. Largely through her efforts, the show's hosts, Hugh "Chef Irie" Sinclair and Nicole Hylton became the first Jamaican principals to gain hosting credits on a national PBS series. By the end of June, the Caribbean's colorful cuisine and culture represented in the series will be available in over 80% of American homes via independent PBS stations and American Public Television's 24-7 lifestyle network, Create TV.
Her company, Blondie Ras Productions, also created "The Caribbean Diaspora Weekly", a television lifestyle magazine which featured interviews with influential Caribbean and Caribbean-American personalities, food, event coverage, factoids, news and opinions opening a window into the Caribbean-American world. The series continues to air during prime time on cable in over 20 Caribbean countries and 10 North American regions. The South Florida broadcast of that series on SFL / The CW Network gained recognition in 2014 for bringing Caribbean culture to local mass market viewers. As the host of that series Thompson gained recognition for her eloquence and bold perspectives on the community.
In partnership with Caribcast and Jamaicans.com, Thompson executive produced "The Weekly News Roundup" a weekly online newscast that covered Caribbean and Diaspora news items, from November 2013 through September 2014. During this same window, she recorded syndicated weekly news podcasts reaching Caribbean radio listeners across the US.
As a columnist, Thompson contributes weekly Caribbean-centric opinions to the South Florida Times newspaper reaching print readers from South Miami to Key West, and online readers in multiple US regions. As an author, she created puzzle book "The Jamaican Word Search", and is in the process of completing her first book of collected opinions titled "Things I Probably Shouldn't Say".
Her speaking engagements have included University, Chamber of Commerce and upcoming Diaspora Conference audiences.
In 2014 she was honored by Legacy Magazine as one of their Top 40 Under 40 Leaders and Future Leaders on Broward County.
Her diverse career has spanned over two decades in the entertainment industry and has seen her move from touring the world as a vocalist with stars such as Beenie Man, Kevin Lyttle and Kymani Marley to lending her smooth Jamaican accent to commercials and TV shows.
She is a graduate of Immaculate High School and Campion College's sixth form, and holds a Bachelor of Arts degree in Architecture from the University of Technology.
Thompson's current mission is to showcase the best of Caribbean culture to the wider world.